Hi folks,
this is going to be my first post on this forum, nothing spectacular actually, but maybe some inspiration to people doing summer holiday tours in Eastern Europe. I currently live and "operate" out of Vienna, so this is all kinda my backyard. However, time to ride became less and less over last years (kids, wife..you name it). So it's just about a few weekend trips I can report for this year.
The first one is to S Hungary. I left of a Friday afternoon to Keszthely, more specific too a campsite south of the town right on the lake Balaton (Zala Camping, Balatontourist). This was my base camp for S HU rides this year and the year before. It's some 7 EUR per night and has a restaurant on site which unfortunately closes as early as 2100. Consequentially I was in a hurry to get my tent up in daylight yet AND some tasty Hungarian gulash and beer before that deadline. Again consequentially I did not take any picture on the way down.
At least last year I took a pic from the campsite: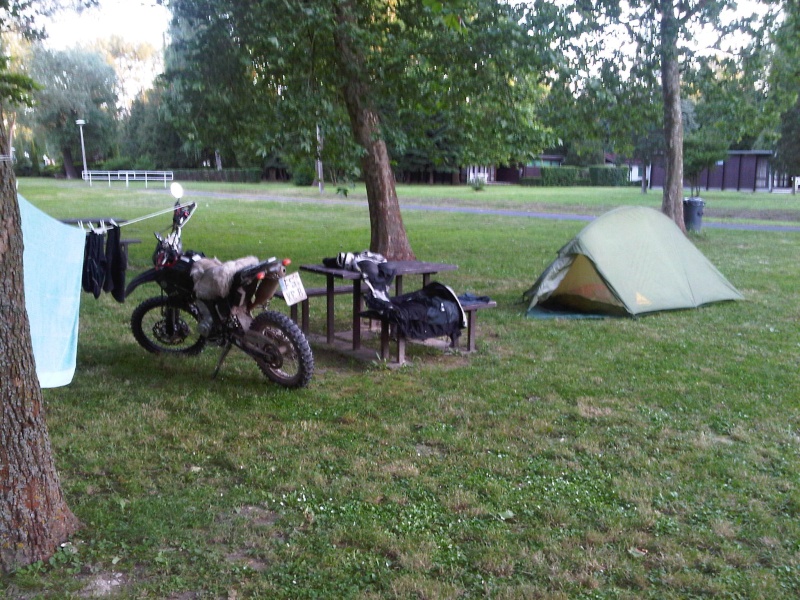 2013 I was there in June, before start of main season as you can tell, nobody there on the tent space, all for me. This year in July it was rather pretty crowded.
Saturday morning after filling up gas, water and coffee at the Agip station (nice girls) in Marcali, of we go into the forest.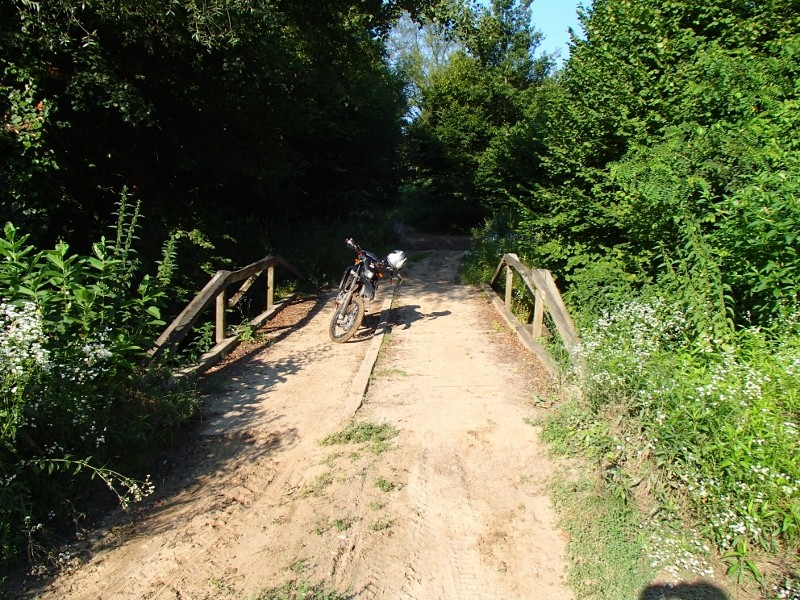 After some tarmac section in between I hit this great sign: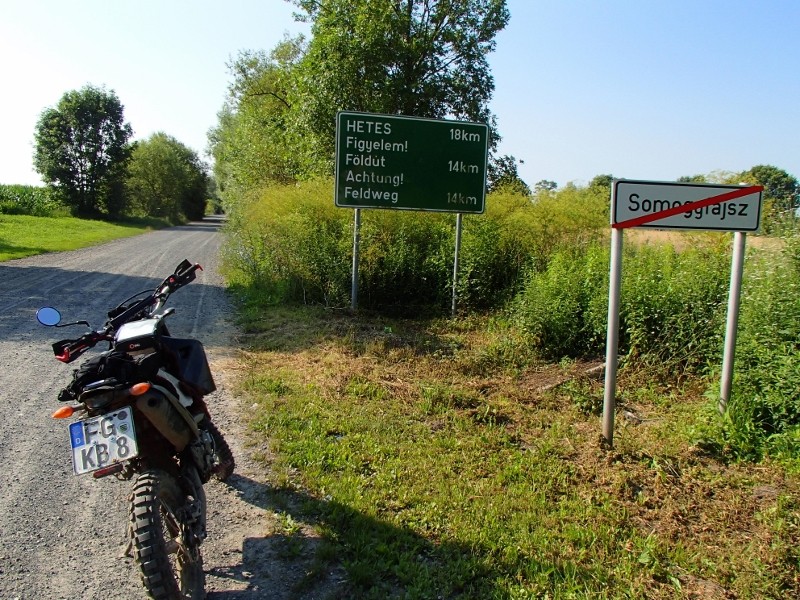 It says "Attention! field track 14 km". I was attentive, no worries. Why this message in the middle of the boonies needed a freeway sign sized plate and multilingual text will forever remain the secret of some road department burocrats.
A little later I hit this chainsaw massacre: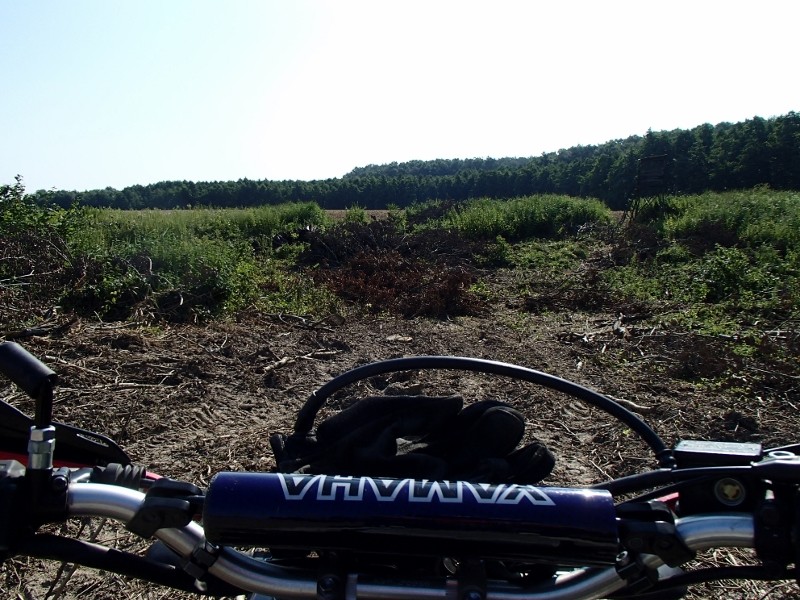 There was such a mikado of branches, particularly on the way out of that trench behind the reddish/blackish bush that I had to make some order first to protect my spokes at least.
Old wellpad used by hunters. Quite like this synergy, work myself in the oil path in East Europe, have a hunting/forestry background family...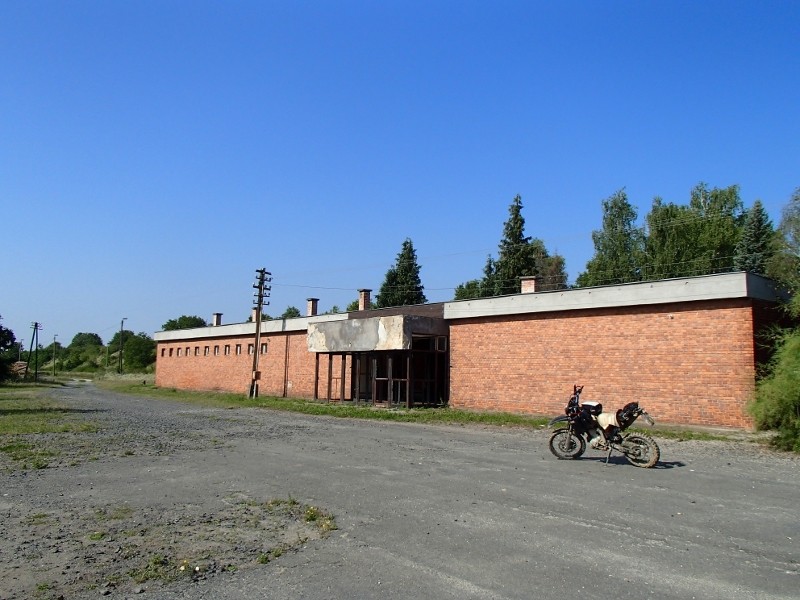 Abandoned railway station west of Somogyjad. Tried to get straight south along the old tracks but too much bush and vegetables. So I went back on tarmac heading to a trail entry point I had tried to keep in my porous brain from google earth, south east of Kaposvar, exactly where the route 66 is intersecting the county border between Somogy and Baranya counties.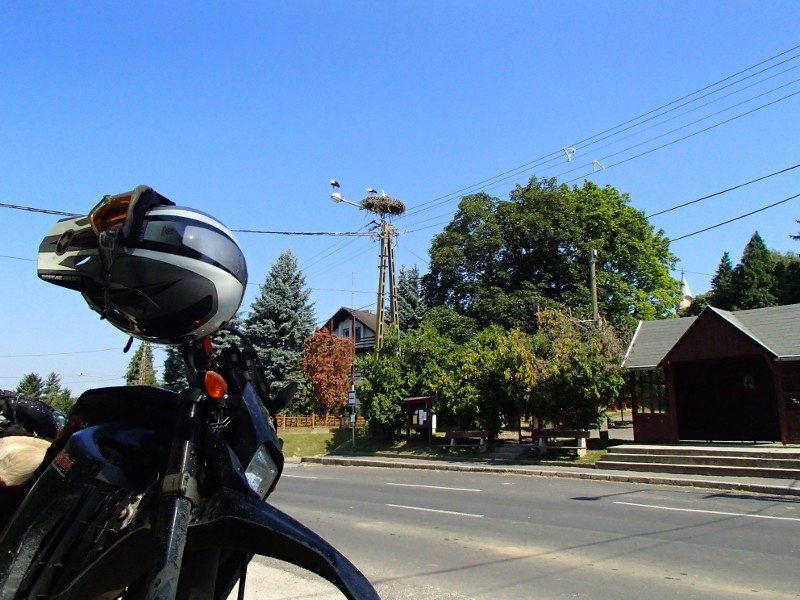 But before I had a siesta and a ice cool coke at a Coop shop in Szentbalazs, watching the storks in front of it doing essentially the same, without coke in the blazing sun, poor critters.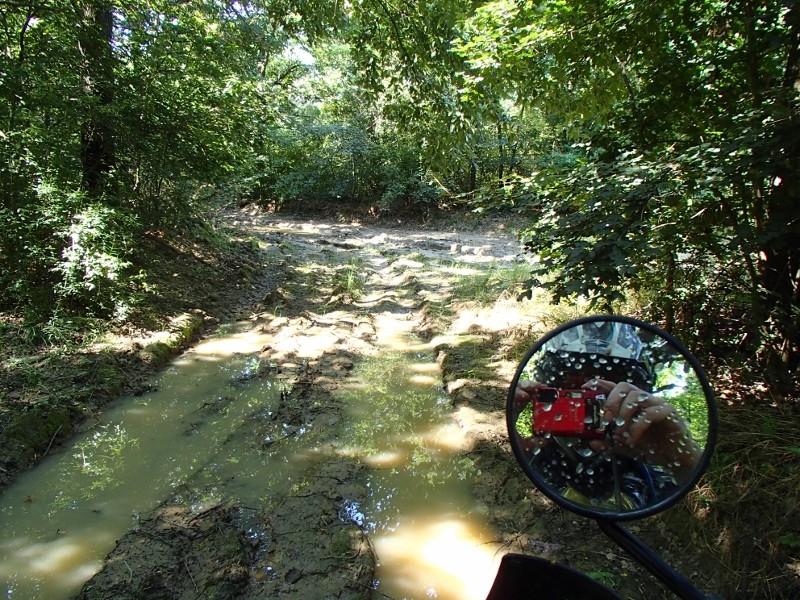 The trail from there south went along that county border for quite a distance, but somehow I got off it later (next year I get a Garmin, I promise...).
The trail condition suited the noon time temperatures of 37degC / 99 F. Puddles could not be deep enough in this heat, just my half worn T63 front was kind of disturbing the party a bit. I was expecting dust dry due to the heat, but seems they had some thunderstorms here that week.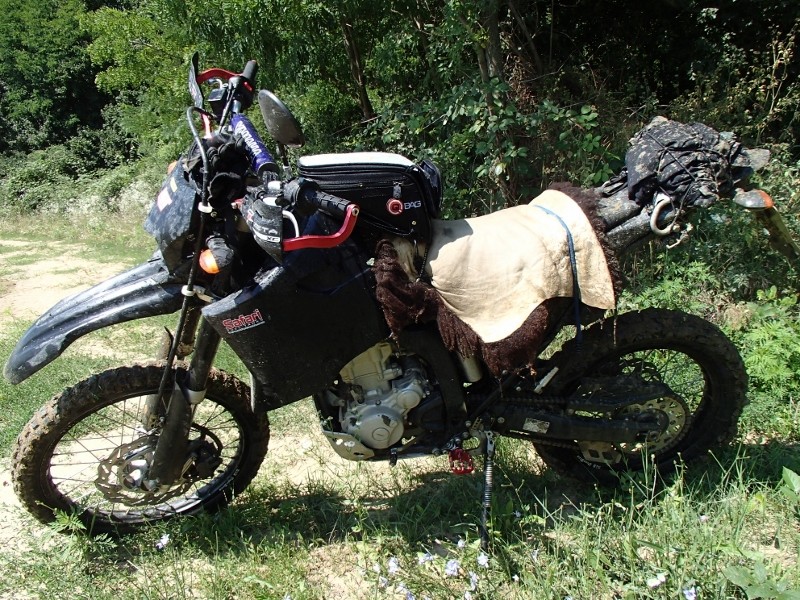 That's her by the way, my "girlfriend" as my wife likes to jape. 2010 WRX converted to R at 0 km right at/by the dealer.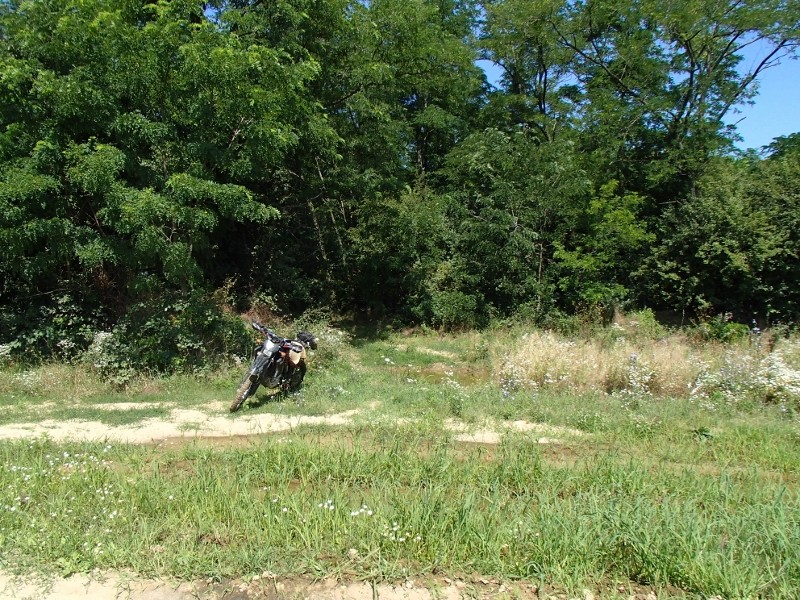 Strategic crossroad. When I came out of that forest it shot to my mind immediately, that I've been here last year. Back then I came from there:
My mind was struggling to figure out how I got here last year and what I did next, but somehow this point had some importance last year. I did not remember. But I did not go into the forest I'd just came out, so much I was sure of. Will miss all this mind training with the Garmin next year...
Let me look up a picture from last year: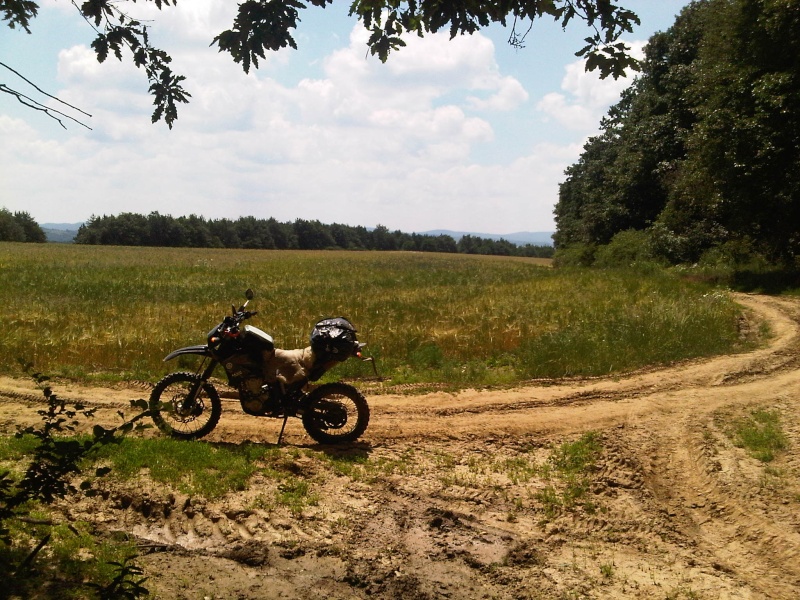 Yet w/o Safari.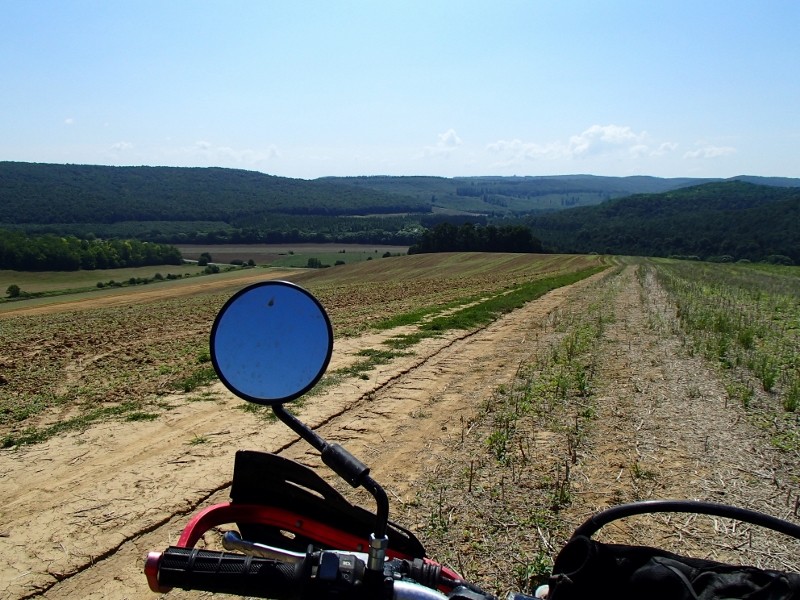 It gets more hilly and forest down in the south after one has passed over the puszta plains imediately south of the Balaton. The reason why I go here.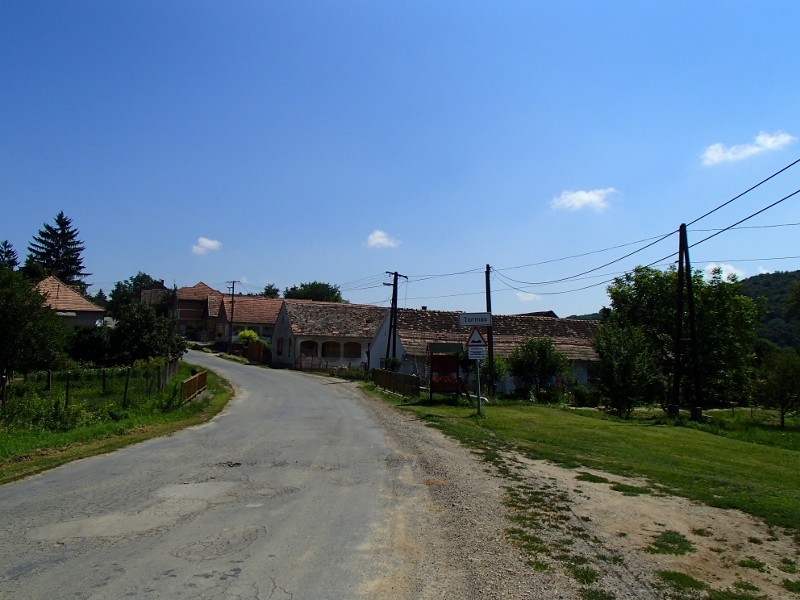 Typical Hungarian countryside in midday heat, no people outside, rarely a car passing by every half an hour or so.
just a stupid German who cannot concentrate anymore...
almost looks like sand on the pic, but is not, just very light colored clay stuff with good grip as long as dry but going off like grease if wet.
oh my goodness...where have I gotten to...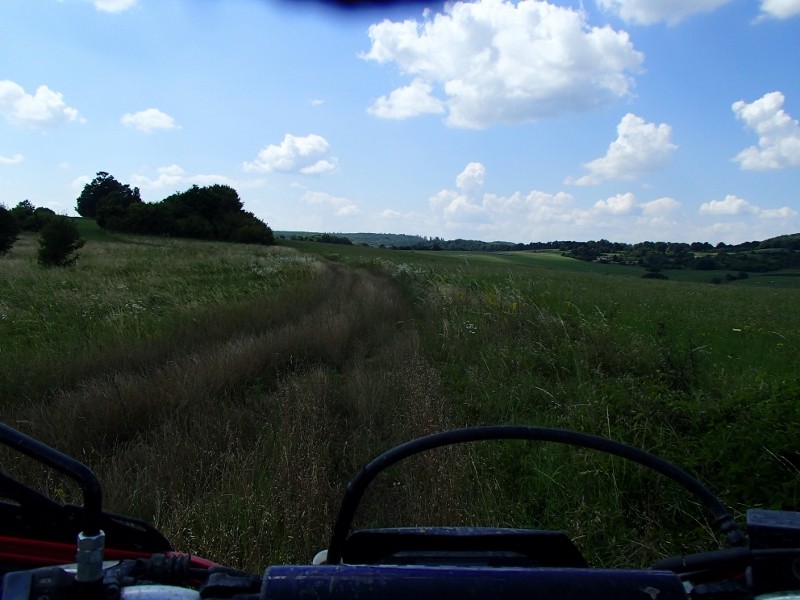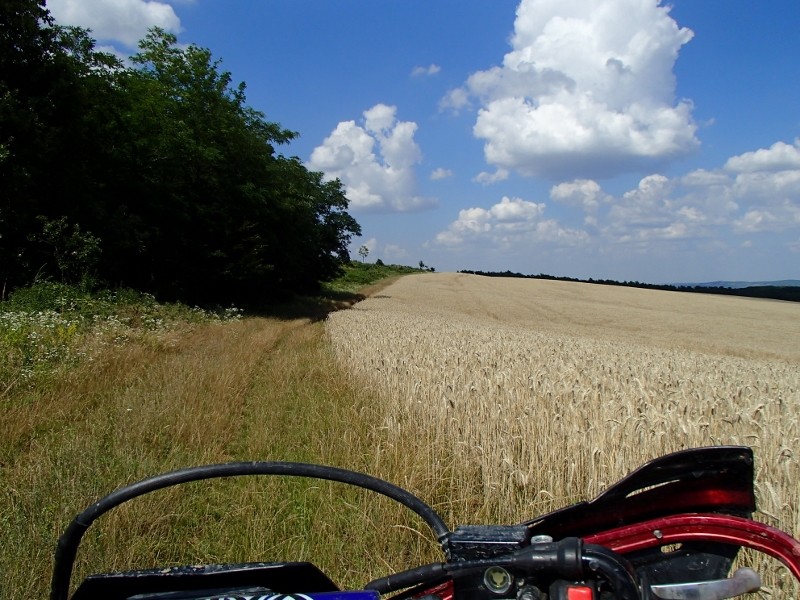 Came to an abandoned church at the northern limit of Sornyepuszta, again puzzled, been here last year, but from opposite direction. Found out few hundred meters onwards, that I just missed it shortly before I got into the chainsaw massacre, took one wrong turn just 500 m east of here.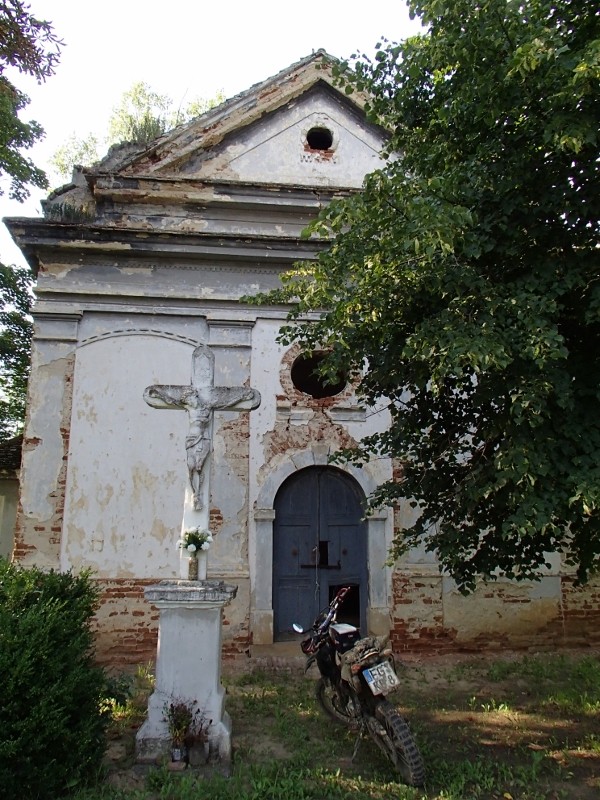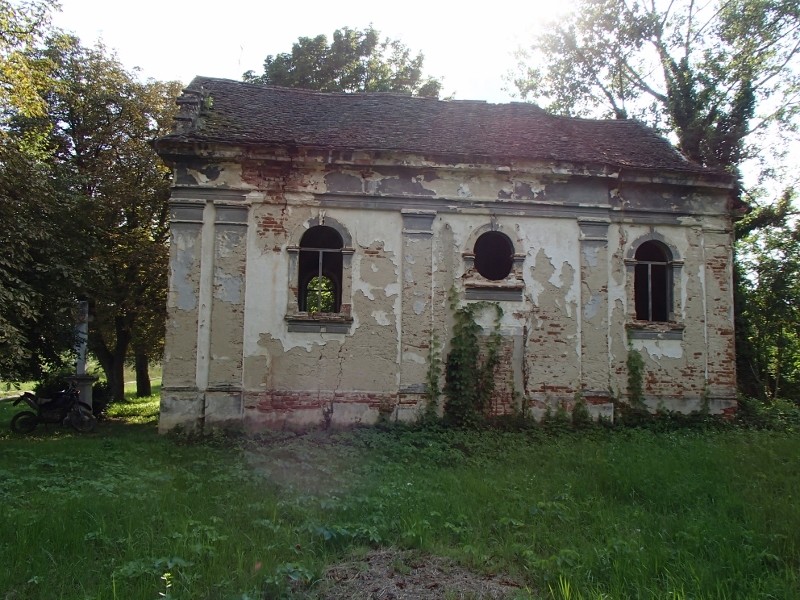 Some crooks stole the cables out of the walls..on the other hand, they do this over night even to schools yet in operation here in East Europe, so shouldn't be surprised.
Back towards the Balaton: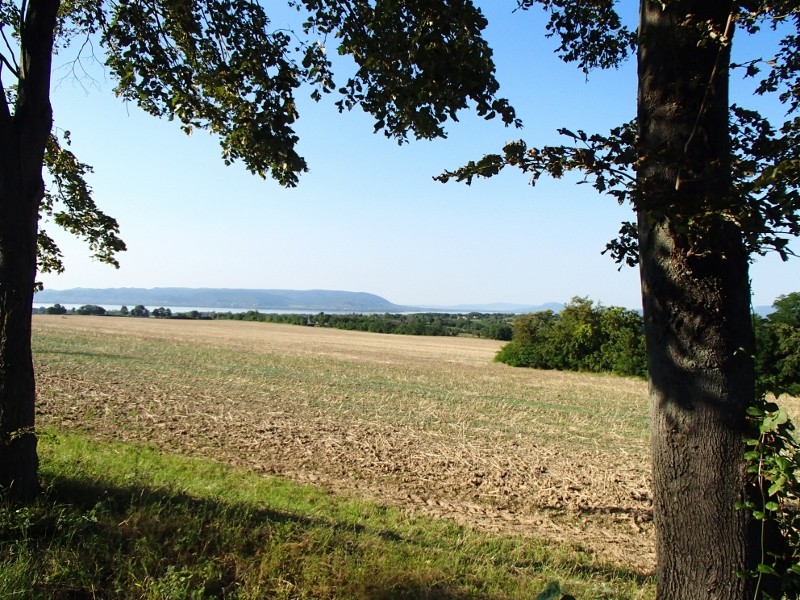 Back at the campsite I enjoyed a few beers in the restaurant before the mossies became so ugly that fled into my tent. That's Balaton - wide reed belts.
Next day I went back to Vienna reducing again the black top percentage on that transit route AND doing it in record time so far. That encouraged me in further mapping out trails along that route Vienna-Balaton. Back then in July I had already the whole Austrian section with a minimum remainder of absolute necessary tarmac and the one or other section in Hungary. Now I think most of the HU part can be done on field trails with still getting the tent up in daylight Friday evening. Will see next year what I can do. On the other hand there is strong competition from Moravia/Czechia now, in terms of where to go, but this is another ride report yet...