2008 Yamaha WR250X
Located in Carpinteria (Near Santa Barbara, California)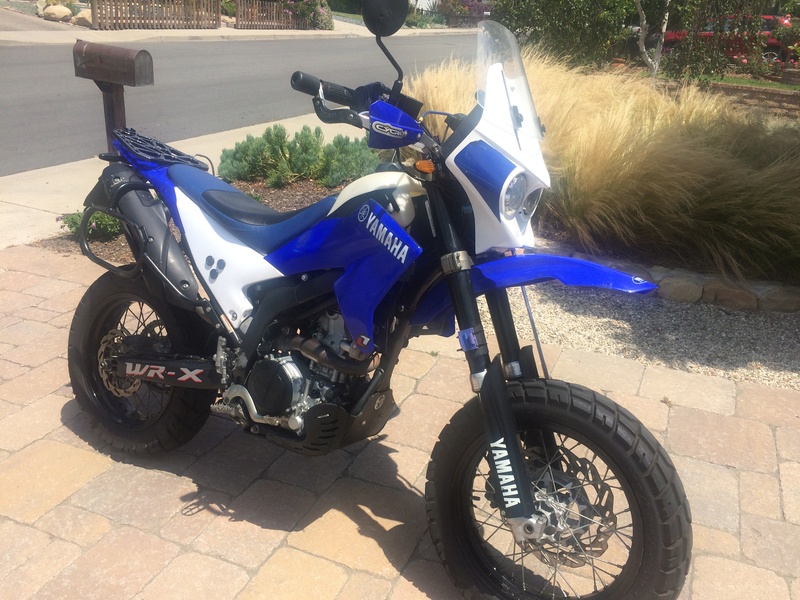 All set up for Dual Sport Adventure travel, well maintained, clean title, ready to go! Spare parts for sale list at bottom. Hate to see it go but hand problem forces sale (Had to go with DCT bike). $3600. You can 'de-farkle' and sell items to reduce your costs. Or add some luggage (below) for a complete setup. Test rides on a case by case basis.
Great Baja bike or put on street tires for a supermotard. Suspension is outstanding, never down hard, tipped over a couple times is all. Its been from La Paz, Baja to Jasper, British Columbia, and Copper Canyon, Sinoloa with no problems.
Video Review Overland Expo 2016 LINK https://www.facebook.com/doug.mcginnis.90/videos/10208560659792451/
Have some Fun! LINK https://youtu.be/Zs-GnQzpJTE
• 37,200 miles (Others have logged over 100,00 miles on this model)
• Britannia Composites Fairing with 3 Ram-mounts and switched USB Power Outlet
• Bill Mayer Saddle
• IMS 3.1 Gallon Tank
• Moose Racing Pro HDPE Skid Plate
• Wolfman Pannier Racks with Rotopax mount plate.
• GYTR Titanium Foot Pegs
• Aluminum Billet Tail Rack.
• DRC Edge 2 Taillight and LED Turn Signals, with Fixed Rate Flash Module
• Sandman Case Saver
• Kreiger Cam Chain Tensioner
• 12 o'clock Labs SpeedoDRD Healer
• 12 o'clock Labs Gear Position Indicator
• G2 Throttle Tamer Tube
• Cycra Hand Guards
• Shinko 705 Tires
• Yamalink lowering links, have stock links if preferred.
• FMF Programmer
• FMF Header (stock muffler)
• Renthal Bars and Risers
• Manic Salamander bar end weights
• Unswitched SAE power connector for battery tender, etc.
• Two GoPro Mounts (front and rear)
• Wired for Tusk Heated Grips (only one side working now)
• New Front HEL Brake Line and Zeta Brake Line Clamp
• Zeta Magnetic Drain Plug
• 14/49 gearing
• Original Owners Manual
• Blackstone Labs Oil Analysis just done, clean bill of health
• Factory Tool Kit
• Fuel pump replaced
• Stator recall done
• New oil and filter
• All service records.
• Registered thru May 2018
Spare Parts for sale separate (add some luggage for a complete travel package). Motorcycle buyer gets first pick on parts marked with *.
• Giant Loop Diablo Tank Bag, White, $90*
• Wolfman Expedition Bags with liners (worn but perfectly functional), Yellow, $125*
• Wolfman Duffle, yellow, $90*
• Shinko 244 Knobbie, rear, $50
• 1 Gallon Rotopax and mount, $50*
•
Replacement aftermarket fuel pump, no cage, $18
• Stock headlamp, $75
• Stock muffler, $90
• Stock gas tank (California), $70
• Stock dogbone links, $75
•
Chain Slider, new, $25
•
Clutch and Brake Levers, new, $20