Hi fellow WR riders!
Starting in Alaska about 3 1/2 months and 23'00 km's ago we already put our bikes and all the modifications trough a lot! Still there is more to come...
It's about time tough to write a small review of all the mods we have done to the bike and how everything held up.
Original post is linked on Facebook: https://www.facebook.com/justamotoride/
Engine
Since we like the WR's engine how it is and did not want to jeopardize reliability on a trip like this we did nothing crazy to it. The only thing we changed is the CO setting: from 0 to +2 made the power delivery from idle much smoother.
Steering, handlebars and dash
Handlebars: Aluminium handlebars from Tusk. Same bend as stock. They are probably a bit more vibey than the stock ones, but not to an extent that it gets annoying. Handlebars did not bend so far – we are happy with them!
Steering damper: We got the GPR one and love it! really makes all the difference on long days with a light bike – on and off the road! Got it serviced directly at GPR in San Diego before we crossed the boarder into Mexico after about 17'000 km. Thanks again for taking care of our dampers! The high speed damping was noticeable worse after we tortured the poor things for three months every day. Getting them serviced after this made them feel like new again.The two flathead screws on the side of the unit where rusty got replaced too. Two weeks later they where rusty again unfortunately – but that really is just an optical thing. According to GPR those screws came from a bad batch.
Clutch and brake handles: Got the folding aluminium ones from ebay. Like the size and quality, spring could be a bit heavier tough!
Dashboard: I 3D modelled a small dashboard that fits nicely between the original light mask and the Parabellum windshield and 3D-Printed it out of ASA-X (Tough and UV-stable plastic). So we have 2x 2.1A USB 1x Voltmeter 1x Hirschmann STAK-2 15 Amps plug (For heated vest, air compressor and charging the battery pack). even tough everything is waterproof, I spray everything with WD40 after a wet day to prevent oxidation of the contacts. Altough WD40 is not ideal because it tends to gum up things, it's better than letting everything oxidize and there is nothing better available on the road (do not want to carry more things...)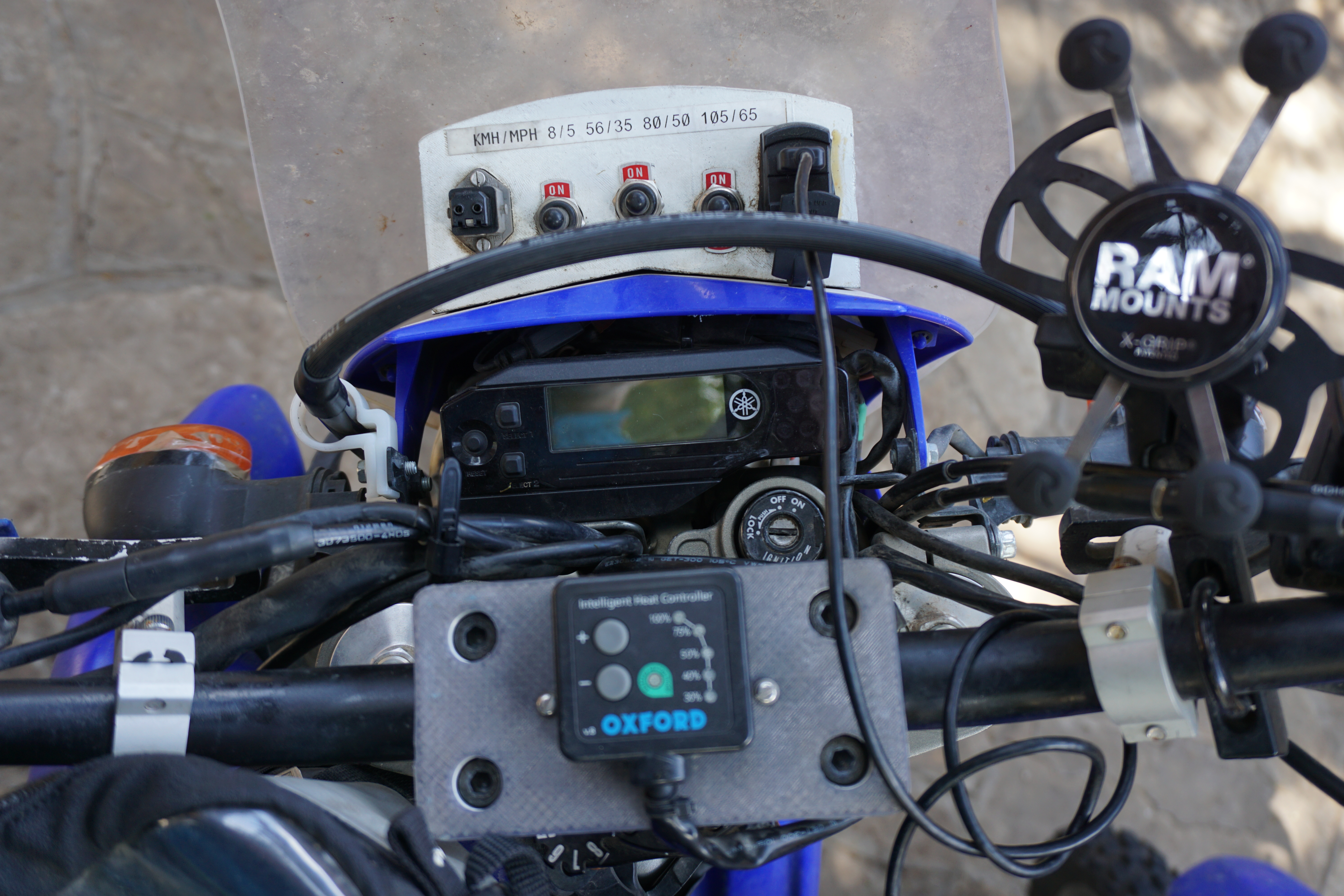 Heated grips: We bought the Oxford ones. Even tough we routed the wires that there is minimal strain on them the first ones failed just as we entered Guatemala! We need to find replacements before we get to the cold again. I 3D-printed a small cover for the handlebar mount where I stuck the controller on
Mirrors: We got some cheapo Chinese folding mirrors. Holding up great and are easy to fold in and out while driving, they just move on one axis so you don't mess up your mirror alignment if you are sliding them in and out. great! Only downside is that they vibrate a bit more on the highway than the stock ones.
Handguards: we got the Tusk D-Flex ones. Had to gently tap them back into shape with a rock a couple of times – still holding up and would get them again!
Body
Windshield: We got the Parabellum one. No turbulence at helmet for us and no speedwobble (keep in mind that we have a steering damper – a buddy of mine had troubles with wobbles and turbulence on the helmet over 110 km/h before shortening it). Also ours rests on two points of our dashboard which might give it a bit more rigidity.
Sandman casesaver: Altough I'm still not convinced this thing really saves my case if the chain breaks or just kills the case anyway and take the mounting spigots with it, it makes it easy to have an eye on the chain slider! also it leaves enough space to fit a 14t sprocket which is great.
Seat: Seat concepts with gripper top, great seat, huge improvement over stock.
Headlight guard: Just cut out a piece of 2.5mm acryl glass an stuck it on the headlight on two sides with some transparent UV-Stable double sided tape. No need for fancy metal guards here. Our headlights got their fair share of rocks thrown at them and are still holding up!
Footpegs: We mounted wider footpegs to our bikes. Chinese stainless steel ones. Had to drill the mounting hole from 8mm to 10mm (or 12- I don't remember) with the drill press while killing loads of drills. I like the pegs and they are so tough that they did not even get a scratch yet but I would not do that to my drillpress again.
Suspension: We both got the complete GoRace setup (heavier springs and revalve) front and rear. Absolutely love it! Thought a long time about dropping the cash but not regretting it for a second. For a long trip like this I would at least get the rear resprung ant go from there.
Gearing: After not paying attention to our chain for a riding day and a half, our chain sliders where almost eaten trough. Since we had to change the sprockets anyway we went to 14×47 which is close to stock to give the slider some space. Probably would go with 14×49 next time to have some more punch at altitude and with oversized tires. We run the chain a bit looser now without abnormal chainslider wear.
IMS Tank: Went for the 18L one. Awesome thing! gives us heaps of range and did not have any issues with it so far. We mounted the low fuel sensor a bit lower than stock, so it now comes on if there is 4L left in the tank. Also a black bear tried to rip it off but only left a few scratches. We are happy with them!
Skidplate: Flatland skidplate. After we mounted it the thing almost killed our eardrums. So we lined them with a 2mm sound deadening mat which is designed to quiet down big machines. The mat has one sticky side, is oil and chemical proof and heat resistant. Engine noise was reduced by a lot!! The skidplate itself came in handy a couple of times already!
Carrying stuff
Side and top racks: Also from Tusk. Holds up really well so far, we don't have any issues with them.
Toolbox: A mate of mine welded us two toolboxes out of 2mm Aluminium, they optimize storage space between luggage rack and swingarm and give us a lot of space for tools and spares!
Adventurespec Magadans on the sides, which we absolutely love! One inner liner got leaky after a couple of weeks but Pete from ADVSpec quickly sent us a new one. Really like that they are lockable and tough!
Bag on the rear: On the top rack we got a small Enduristan Tornado 2 M. They have about 30 litres and are the perfect size for us. We keep the light but bulky stuff in there.
Tankbag: Giantloop Fandango. A bit too wide for the bike while standing up. Zippers are a bit flimsy and one got ripped off by a blackbear in Colorado, so only one of the attachment zippers remain. It's held on now by a bungy, which makes fuelling up a lot easier since I don't have to undo the zipper!!
Tires
We already put the following tires on the bikes:
Trailwing front and back: We like those tires for easy 50:50 riding. Took the front up the Dempster/Dalton where they where adequate. On tarmac they do fine, the only thing we disliked about them was that the rear lost grip breaking on wet tarmac easy.
K60 Rear: Really like those tires! They do well on gravel and very well on the road. Ours lasted only 7'000-9'000 km (they where absolutely trashed by then). I had the K60 Scout on my XTZ750 before where it lasted forever. I was expecting a bit more mileage. Sharp gravel (Dempster!) just cuts these tings into pieces!! We used a bit over 1mm thread per 1000km riding. I think new they had about 10mm thread.
D606 Rear: A lot nicer offroad than the K60 (Traction yeah!) but worse on road especially at higher speeds. After a pretty long run-in period they are pretty decent on the road. These tires need to be balanced if you want to take them over 100 km/h! We did not balance ours at first and they where a nightmare at higher speeds. They needed an insane amount of weight to get them balanced! We use a bit over 1.5mm of thread per 1000km driven (15mm total).
MT21 Front: We absolutely love that tire on and offroad! It's definitely our favourite so far. We put 30 psi into them on the road (to avoid abnormal wear) and about 18 offroad. After 5000 km of mixed riding and going easy on the front brake while on tarmac we still had 10mm thread left (can anyone measure a new one?).
D606 Front: Put them on because they where supposed to last longer than the MT21 – jury is still out on that for us! On the road they are very jittery and give the steering damper a workout, no matter the tire pressure. They got a bit better after run-in but are still worse than the MT21 on and offroad. also they like ruts a bit too much compared with the MT21 and grooves in the tarmac make them unstable. Mine got uneven wear after a fun day on a windy road south of Palenque with a lot of hard breaking in the front. until then it was fine, so if you want to keep it (and knobbys on general of course) for a long time go easy on the front brake while on tarmac.
K270 Rear: Just had it on for a short while between Colorado and the Mexican boarder. They did well on the highway even unbalanced and did also good on sandy roads and gravel. Did not get to try them in loose stuff tough!
Navigation
We both used a Garmin Zümo 550 with Open Street Maps at the beginning of the trip. Since some cradle pins vibrated out on the Dempster one of them would not charge anymore. I could not find a replacement cradle so I switched back to a RAM mount and the OSMAnd app on my waterproof smartphone. I just killed a few USB cables since then (oxidation, vibrations and dirt) but they are easily replaceable. We still use the remaining Zümo 550 from time to time, but a smartphone is more than sufficient for navigation in our opinion.
I will keep on updating this!" />