I recently spent a few days at Go Race Suspension in Christiansburg Virginia and thought I would share a few thoughts about my experience.
I decided to take a week or so of vacation from work and the north east and go on a little road trip. During my mini vacation I also wanted to spend some time working on my bikes, something I normally dont have time for. I had been wanting to do some chassis work and also get my suspension done on both bikes; WR250R & YZ250F. My bright idea was to call up Travis at Go Race. I summed up for Travis my vacation idea and he was not only was onboard with helping me out with my bikes, he also offered me some space in his shop at his home to work on my bikes and a promise to take me on a dual sport ride. So I packed everything up and drove from Boston, MA to Christiansburg, VA to start my well deserved mini vacation, doing exactly what I wanted to do. What could be better than a little one on one time with the bike, some fresh mountain air, and maybe even some black berry picking (inside joke).
I arrived in Christiansburg late Sunday night and I met up with Travis at the Go Race shop first thing Monday morning. We then headed out to the shop at this house where he gave me some space in his barn to work on my bikes. He wanted to take the WR out for a ride before I removed the stock suspension so he took the bike out and rode around his property for a while. After the test ride, and some direction from Travis, I removed the front and rear suspension from both bikes and started preparing to do the chassis work. His kid showed up later that day after school and started working on his bike and helping me with mine. Apparently I am not smarter than a 5th grader when it comes to motorcycle mechanics. Great kid.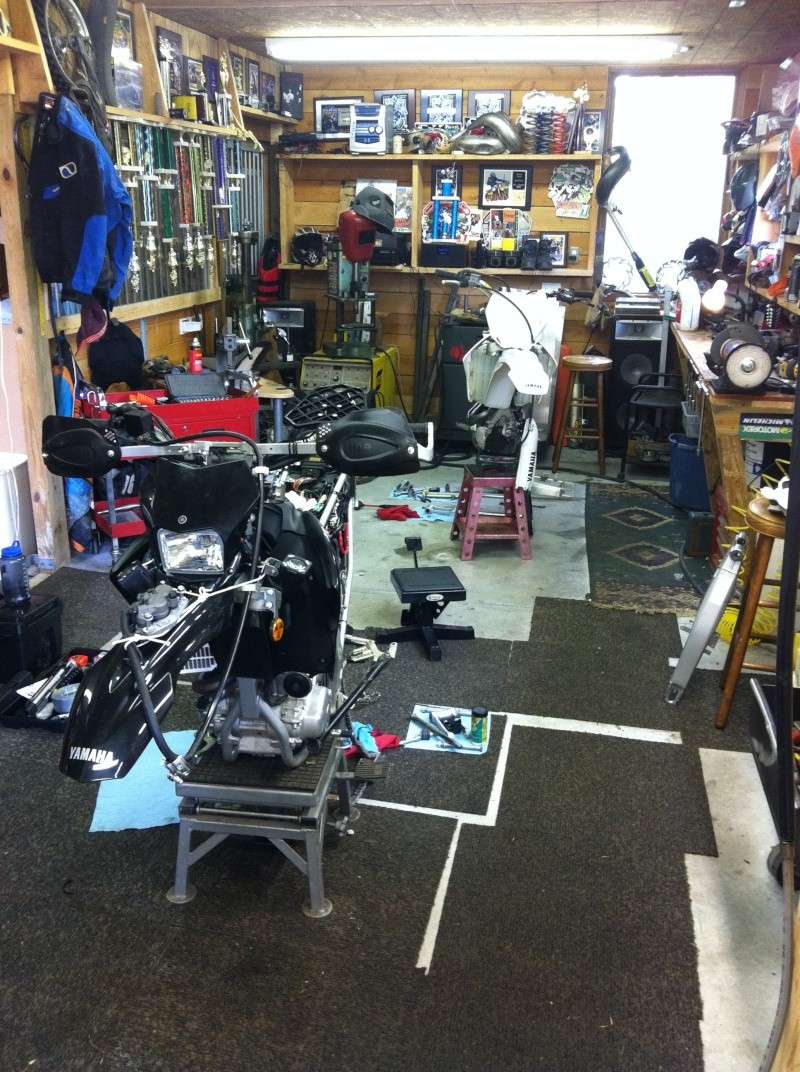 So, on Tuesday I started putting the bikes back together and by lunch time on Wednesday, we were getting ready to head out for a dual sport ride.
What an amazing difference the new suspension makes on the WR. In my opinion the bike is tons more fun to ride with the new suspension. The ride started out in the woods / mountains, some single track .. tight in some spots .. then we were back on the pavement, heading UP a winding twisty wet road (wet leaves and some gravel in some of the turns) until my ears started popping (not sure what elevation we reached), then we started going back down, but on a different road, a gravel road. Then we turned off on a washed out trail which was a true test for the bike. At some point we turned around and came back UP the same way we went down, which was a blast. So much fun, and the WR was awesome. Just gave it throttle and it went, no questions, no feathering the clutch, just went. I have D606's and some heavy duty tubes in there which were really put to the test (the rocks in some places were pretty ruff). The suspension sucked up everything and was an amazing riding experience. That for sure would have been a ruff ride with the stock suspension.
I have to say the entire experience exceeded my expectations and then some. It was cool to see all the stock parts he replaced and the parts he replaced them with, and the explanations of how everything works. I spent several days there and I did notice he is a very busy guy. It was very cool of him to juggle me around everything else he has going on. I learned tons from Travis and also the country out there is amazing. I cant write for crap so I hope I am able to give you all an idea about my experience there with what I have written here.
There are a couple of things I would like to mention. First, I went to Virginia with the impression Travis is a suspension expert and obviously knows a lot about motorcycle mechanics. That is true, he is a suspension expert, they are doing lots of cool stuff at Go Race, research and development, but what really impressed me the most is his skill and passion for riding dirtbikes. After spending time around Go Race I realized that those guys are no joke. Check out the 24 hour race they did a couple of years back http://goracegasgas.com/ pretty amazing stuff. There is some cool video on there. Its pretty cool to have someone with his experience interested in our bike and researching ways to make it better (he has some cool ideas I hope develop). The other thing is he mentioned briefly he organizes an annual dual sport ride, but for expert riders. I could only imagine how difficult a ride that would be, but in any case, I told him it would be great if he would also organize a dual sport ride with various levels of difficulty. I would sign up for sure.
Thats about it. I wish I had a bunch of pictures to show but Im not one for taking pictures. I did not mention much about the YZF but he did an amazing job on it. I took it out as soon as I got back from Virginia and I am sooo glad I had him do the suspension on that bike as well. He replaced the rear steel spring (which Yamaha decided to use in 2009 to cut cost) with a softer titanium spring and also softened up the front springs, basically overhauled both front and rear suspension and it is performing great.
There was one possible issue with the WRR suspension that I would like to note. When I originally purchased my bike, the dealer installed a moose racing suspension link to lower my bike. Travis felt the link is causing a leverage problem with the rear suspension and said it would be good to put a stock link back on and test it out. So, I am in the process of doing that now (I lost my stock link and thanks to zestymac - who found me one on ebay - I bought a used one and in the process of getting it ready to install). Here are some pictures of the moose racing link (black) and the stock link (silver).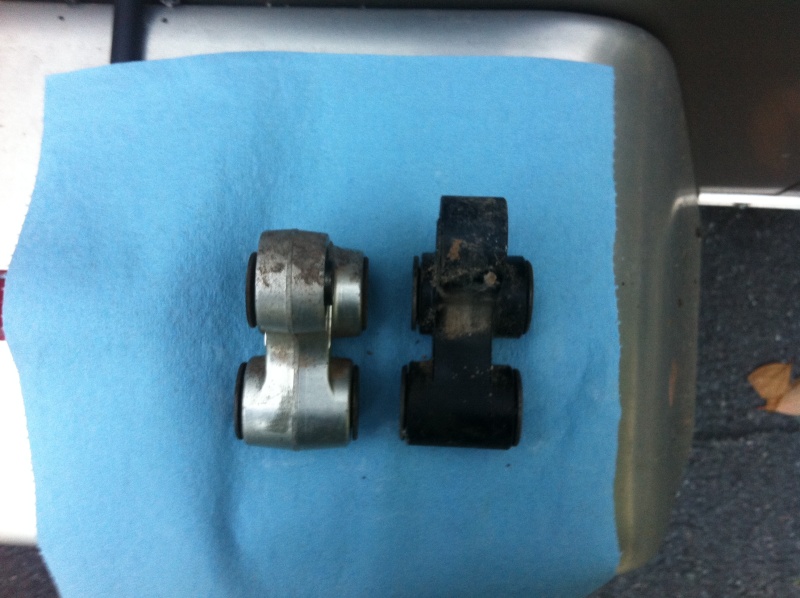 I will report back after I test out the stock link with the new suspension.